More Details
Introducing Ninja's large capacity countertop oven, quickly and evenly cooking complete meals on 2 levels. More than a mini oven with 10 customisable cooking functions – create everything from bubbling cheese-on-toast for breakfast to a whole roast chicken with fluffy roast potatoes for dinner.
Up to 40% faster than a fan oven*
Quickly and easily create family-sized meals in as little as 30 minutes. Say goodbye to long waiting times with a super-quick 90 second preheat.
Enjoy fast, crispy and even results with True Surround Convection – no need to rotate your cooking trays or flip your food.
Cook on 2 levels
Perfect for family-size meals, this worktop oven delivers quick and even 2-level cooking. You can fit a main and sides at the same time, so there's no need to use multiple appliances to cook a complete meal.
Roast a whole lemon-herb chicken with potatoes, Tuscan roast pork with vegetables, traditional fish and chips, or cook two oven pizzas at the same time. A digital rack guide illuminates to help you choose the optimal oven rack positions based on the selected function.
True Surround Convection
Enjoy fast, crispy and even results. A high-velocity fan, rear heat source and surround airflow combine to circulate superheated air throughout the entire oven for even cooking on two racks – no need to rotate your cooking trays or flip your food.
Top and bottom infrared heating elements enable a temperature range of 40°C - 230°C, while a third rear heat source positioned behind the high-velocity fan creates superheated convection air. A uniquely designed top-to-bottom ventilation system circulates the hot air throughout the entire oven for even cooking on both levels.
More than an oven
Enjoy limitless meal options with 10 customisable cooking functions in one kitchen appliance.
Air Fry – Enjoy fast, extra-crispy results using little to no oil. Up to 75% less fat than traditional frying methods**. Perfect for cooking your favourite fried foods, from breaded chicken goujons and sizzling sausages to oven chips and crispy French fries.
Roast – Enjoy a crispy outside and perfectly cooked inside, perfect for oven traybake meals such as lemon and herb chicken breasts with asparagus or salmon fillets with broccoli and sweet potatoes.
Whole Roast – Evenly cook and crisp all sides of your roast with no need to rotate it. Simultaneously roast a tender beef joint or 2.25kg chicken with vegetables for a complete meal or cook a larger roast by itself, fitting a 5.4kg turkey.
Grill – With top-down heat for a crispy finish, evenly grill kebab skewers and cheesy potato gratin or give nachos and pasta bakes a bubbly grilled topping.
Bake – Easily bake your favourite cookies, cakes and pastries, or create savoury dishes such as pasta bakes, homemade quiche, jacket potatoes, fish pie and more.
Pizza – Your very own pizza oven at home! The dedicated pizza setting is designed to cook frozen or homemade pizzas to perfection.
Dehydrate – Gently dehydrate ingredients such as fruit, vegetables and meat to create healthy snacks, from beef jerky to dried fruit.
Reheat – Restore leftovers to that fresh-out-of-the-oven finish without overcooking, from pizza to spring rolls.
Toast – Quickly toast up to 8 slices of bread to your desired finish with the in-built shade selector.
Bagel – Perfectly toast up to 8 bagel halves on the wire rack, with a deliciously crunchy outside.
Easy to Use
Easily select a cooking function, time and temperature/shade with touchscreen controls and a digital display, all located on the sleek oven door handle. When the door is open, the settings freeze to prevent any accidental changes to the cooking cycle.
A removable crumb tray slides out so you can easily clean up crumbs and small spills.
The cooker comes complete with 2 Wire Racks (each fitting a 12" pizza), an Oven Tray, Roast Tray and an Air Fry basket (holding up to 1.8kg of ingredients).
Get started straight away with a Chef-Created Recipe Guide included in the box, packed with recipes and cooking charts to unlock your creativity.
We're proud to develop 5-star products through extensive consumer testing and feedback. Find out what other people think by reading our Ninja oven reviews.
Dimensions: H33.5cm x W43.5cm x D50.5cm
*Tested against sausages and fish fingers, including pre-heat.
**Tested against deep fried, hand cut French fries.
Tech Spec
Category

Heated

Colour

Silver/Black

Product Weight

16kg

Product Dimensions (cm)

H:33.5 x W:43.5 x D:50.5

Capacity

Air Fry Basket - holds 1.8kg of air-fried ingredients

Wire Rack - Fits a 12" pizza

Roast Rack - holds a 5.5kg turkey

Wattage

2400W

Dish Washer Safe Components

Yes

Timer

Yes

Pre-Set Functions

1. Air Fry 2. Roast 3. Whole Roast 4. Grill 5. Bake 6. Pizza 7. Dehydrate 8. Reheat 9. Toast 10. Bagel

Non-Slip Feet

Yes

Guarantee

1 Year

Barcode

0622356245425
In The Box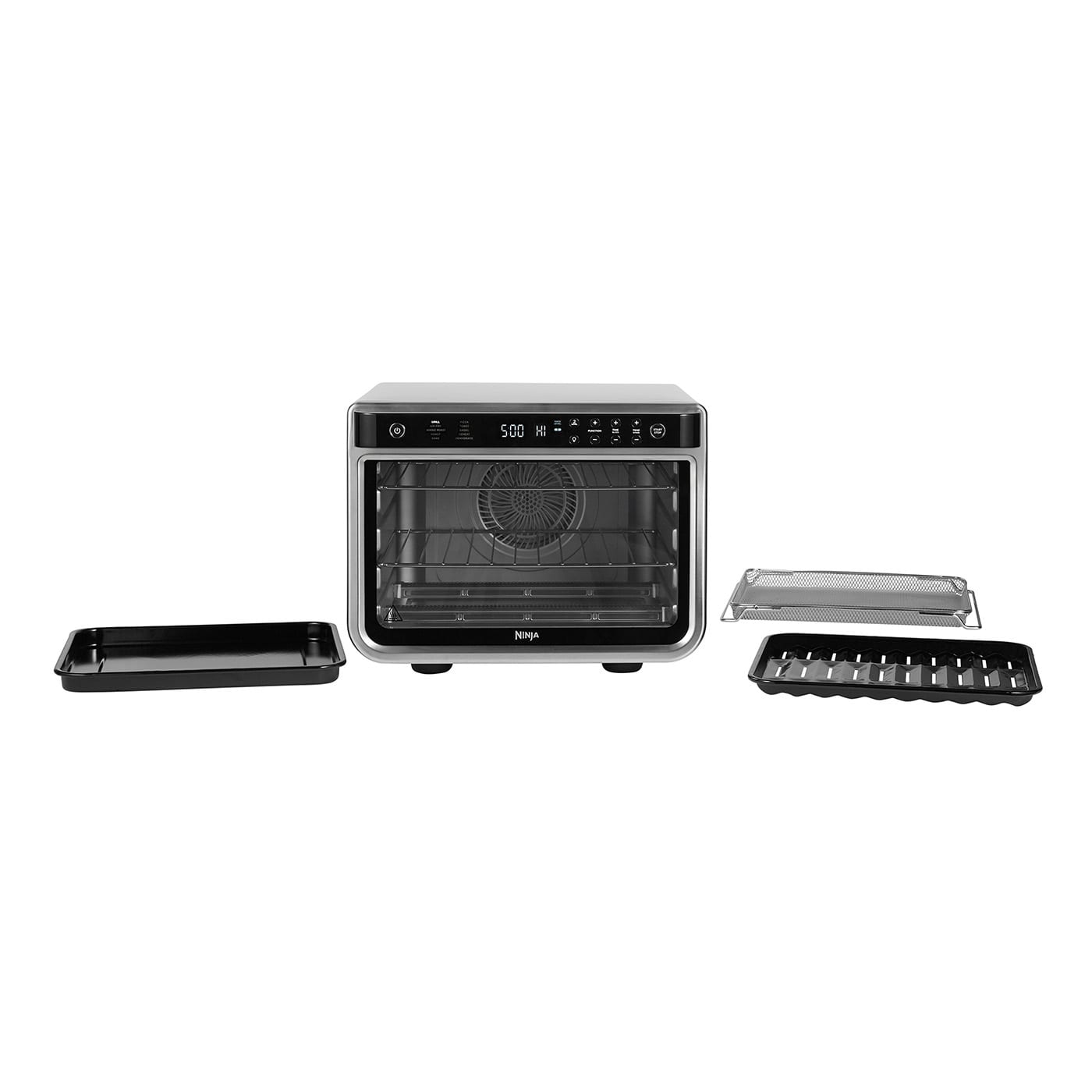 Main unit 2400W
1 x Air Fry Basket
1 x Roast Tray
1 x Oven Tray
2 x Wire Racks
1 x Removable Crumb Tray (already installed in unit)
Instruction Booklet
Quick Start & Recipe Guide