More Details
Introducing the Ninja Foodi MAX 14-in-1 SmartLid Multi-Cooker.
From the creators of the original game-changing Ninja Foodi Multi-Cooker, this next-generation multi-cooker offers even more exciting ways to cook your favourite meals – including innovative Combi-Steam Mode for juicy, speedy, crispy results!
Take mealtimes to the MAX with this large capacity 7.5L model, perfect for cooking up to 6 portions.
3 modes, 14 functions
Unlock 14 cooking functions under one SmartLid – Pressure Cook, Air Fry, Grill, Bake, Dehydrate, Prove, Sear/Sauté, Steam, Slow Cook, Yoghurt, Steam Meals, Steam Air Fry, Steam Bake and Steam Bread.
Simply switch between cooking modes using the SmartLid Slider. The lid intelligently recognises which function you are using.
Combi-Steam Mode
Discover a new way to cook, combining steam with convection for juicy, speedy, crispy results! Using the sauce, water, stock, wine or other liquid added to the pot with your ingredients, steam will infuse moisture and flavour into your food as it cooks. The result? Perfectly cooked food that's tender and moist on the inside, crisp on the outside.
Cook family meals in under 30 minutes with the Steam Meals function, layering mains and sides with the 2-tier rack to create complete, delicious one-pot meals. Try Moroccan lamb steaks with Tenderstem broccoli and fluffy couscous, or perfectly cooked chicken cordon bleu with smoked ham and cheese, tender green beans and buttery mashed potato.
Steam Air Fry crispy vegetables and fresh or frozen foods like salmon fillets with steam-infused air without drying them out – enjoy guilt-free fried food that's moist and juicy on the inside, crispy on the outside. It's also perfect for quickly cooking a one-pot lasagne with a bubbling cheese topping.
With the Steam Bread function you can prove and bake perfect bread with a golden crust, all in one pot. Steam Bake quick, fluffy, delicious cakes, brioche, desserts and more.
Pressure Cook Mode
Pressure Cook up to 70% faster than traditional cooking methods*. Pressure Cooking uses super-heated steam to quickly cook tender meals – perfect for tenderising large cuts of meat, enjoy juicy beef brisket or pulled pork in a fraction of the time.
Air Fry Mode
Air Fry crispy fried food using little or no oil – up to 75% less fat than traditional frying methods**. Create everything from golden chips, sweet potato fries and vegetable medleys to fish fingers, chicken wings and salmon fillets.
In Air Fry mode, you can also choose from a range of other convection and hob-style functions. The possibilities are endless!
Grill tasty burgers, halloumi skewers and marinated chicken breasts. Bake fluffy cakes, cookies, pies and pastries and give cheesy pasta bakes a bubbling topping. Prove doughs to enjoy perfectly risen bread and bakes at home. Sear steaks to perfection before cooking. Sauté ingredients to prepare delicious sauces and caramelise onions for maximum flavour. Steam healthy vegetables and perfectly cooked rice. Slow Cook meals for up to 12 hours to ensure your favourite risotto, casserole or tender pulled pork is ready when you get home. Dehydrate ingredients to create vegetable crisps, dried fruit snacks, homemade jerky and dried herbs. Even create your own Yoghurt, exactly as you like it.
Easy to use and clean
Includes a 7.5L non-stick ceramic coated Cooking Pot which fits up to a 3kg roast, a 4.7L non-stick ceramic coated Cook & Crisp Basket which fits 1.8kg of French fries, and a 2-tier reversible rack – perfect for layering ingredients to cook complete meals on 3 levels, or raising food for steaming, baking and grilling.
All accessories are dishwasher safe for easy cleaning.
Get started straight away with a Chef-Created Recipe Guide included in the box, packed with Ninja Foodi recipes and handy cooking charts. What will you make first?
Want to know what real people think? Read customer reviews of this Ninja Multi-Cooker below.
*Compared with slow cooking, simmering or braising.
**Tested against hand-cut, deep fried French fries.
Tech Spec
Category

Heated / Multi-Cooker

Colour

Black/Silver

Product Weight

11.3kg

Product Dimensions (cm)

H:36 x W:35 x D:36

Capacity

7.5L

Wattage

1760W

Dish Washer Safe Components

Yes

Programs

1. Pressure 2. Steam Meals 3. Steam Air Fry 4. Steam Bake 5. Steam Bread 6. Air Fry 7. Grill 8. Bake 9. Dehydrate 10. Prove 11. Sear/Saute 12. Steam 13. Slow Cook 14. Yogurt
PLUS Keep Warm Function

Coating

Nano Ceramic

Guarantee

1 Year

Barcode

0622356249966
In The Box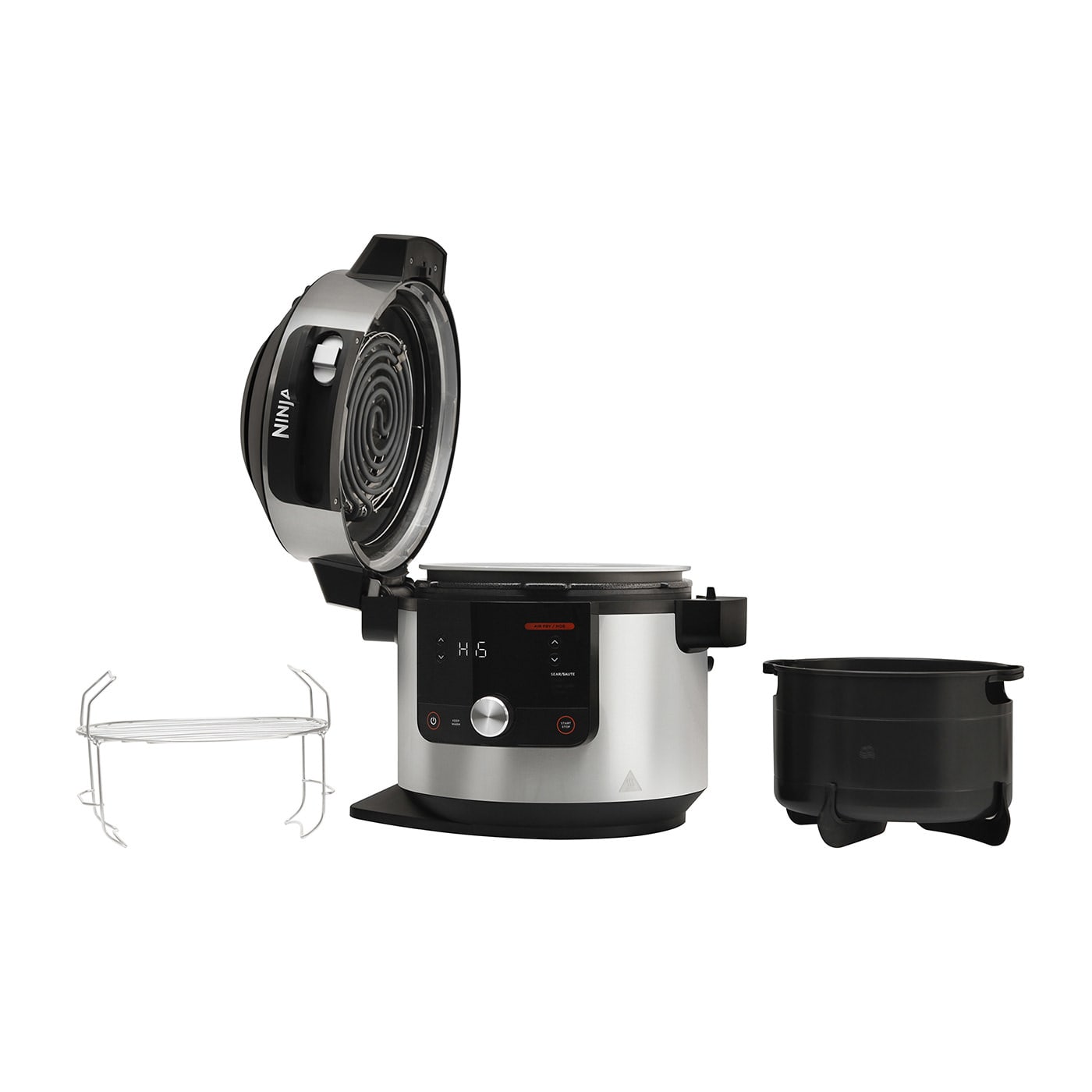 1 x 1760W Multi-Cooker Base
1 x 2-Tier Reversible Rack
1 x Cook & Crisp Basket
1 x 7.5L Removable Cooking Pot
1 x Silicone Ring
1 x Condensation Collector
Instruction Booklet
Quick Start Guide
Inspiration Guide