More Details
Introducing the Ninja Perfect Temperature Kettle, where tradition meets innovation.
With its sleek Stainless Steel design, this variable temperature kettle gives you complete control over your hot drinks, combining contemporary style with impressive performance.
Did you know that temperature can directly impact the taste of your favourite drink? This temperature control kettle offers 6 pre-set temperatures ranging from 60°C to 100°C, to make the most of your favourite drink – and meaning no more burnt tea or coffee. Whether you prefer green tea, oolong, herbal tea or freshly ground coffee, this kettle helps you brew the perfect cup every time.
Why use Temperature Control?
Every type of tea and coffee has an optimal brewing temperature that brings out the most flavour. Our pre-set temperatures help you enjoy the most flavourful cup, every time.
Select from 6 pre-set temperatures at the touch of a button.
60°C - 90°C: Perfect for speciality teas such as green tea, white tea and oolong.
95°C: Perfect for French Press and instant coffee.
100°C: Perfect for black tea, English breakfast, Earl Grey, hot chocolate, chai, instant soup, fruit teas and herbal teas.
You can also take control with manual temperature controls – easily increase or decrease the temperature selection in 5°C increments, from 40°C to 100°C.
A live temperature readout displays real-time information as the temperature climbs to your selected preset.
Rapid Boil
Quickly boil 1 cup in under 50 seconds with this 3000W electric fast boil kettle. Perfect for making that first morning coffee in a hurry.
Hold Temp feature
This clever feature maintains your selected water temperature for up to 30 minutes. Simply press the Hold Temp button at the beginning, middle or end of a program to automatically keep the water at your target temperature. Perfect for making a second drink as delicious as the first – no need to re-boil your kettle.
Easy to Use
Choose your perfect temperature at the touch of a button with simple controls on the base. Thanks to the handy water window with blue illumination and markings up to 1.7L or 7 cups, easily fill the kettle to your desired level and see how much water is inside.
This Ninja kettle's digital control panel will automatically enter sleep mode after 5 minutes of inactivity. The kettle is BPA-free for your peace of mind, and the spout features a removable scale filter for easy cleaning.
Not sure what temperature to use for your favourite drink? There's a handy guide included in the box, featuring simple temperature charts and delicious recipes to please your taste buds. What will you make first?
Looking for a stainless steel kettle and toaster set? Discover the matching Ninja Foodi 3-in-1 Toaster, Grill & Panini Press ST202UK to complete your Ninja breakfast collection.
Want to know what other people think of this kettle? Take a look at our customer reviews below.
Tech Spec
Category

Breakfast

Colour

Stainless Steel

Capacity

1.7L

Wattage

3000W

Non-Slip Feet

Yes

Other Functions

Keep Warm for up to 30 minutes

Temperature Range

60°C - 90°C for speciality teas such as Green Tea, White Tea & Oolong

95°C for French Press & Instant Coffee

100°C for Black Tea, English Breakfast, Earl Grey & Herbal Teas

Rapid Boil

1 cup in as little as 50 seconds

Boil Dry Protection

Yes

Guarantee

1 Year

Barcode

0622356250085
In The Box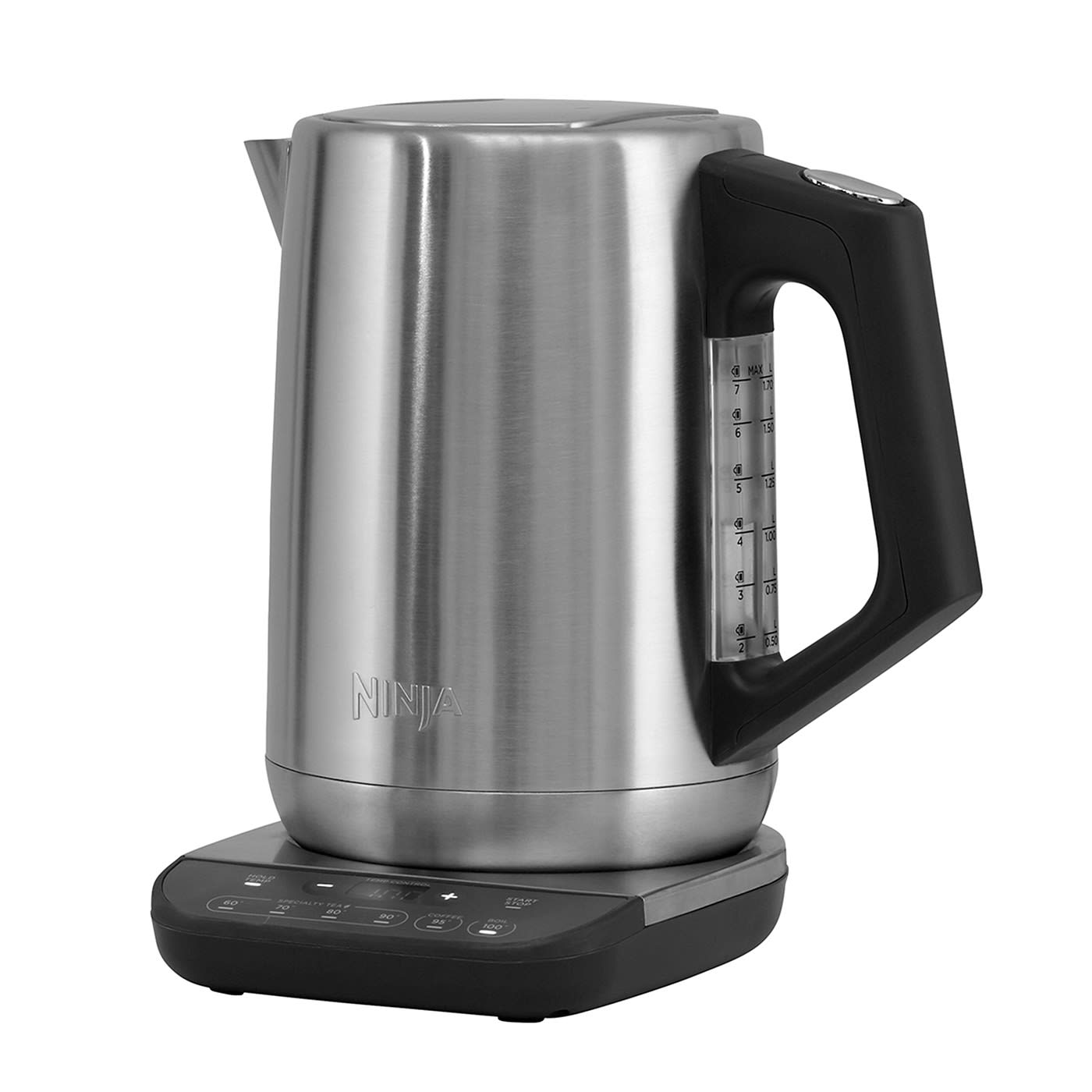 1 x Kettle & 360° Swivel Base 3000W (with removable limescale filter)