More Details
This matching stainless steel kettle and toaster set makes the perfect new home gift or a stylish kitchen update, adding contemporary style to any worktop.
Ninja Perfect Temperature Kettle
Temperature control: Every type of tea and coffee has an optimal brewing temperature that brings out the most flavour. 6 pre-set temperatures help you enjoy the most flavourful cup, every time:
60°C - 90°C: Perfect for speciality teas such as green tea, white tea and oolong.
95°C: Perfect for French Press and instant coffee.
100°C: Perfect for black tea, English breakfast, Earl Grey, hot chocolate, chai, instant soup, fruit teas and herbal teas.
You can also take control with manual temperature controls – easily increase or decrease the temperature selection in 5°C increments, from 40°C to 100°C.
Live temperature readout: Displays real-time information as the temperature climbs to your selected preset
Rapid Boil: Quickly boil 1 cup in under 50 seconds with this 3000W electric fast boil kettle
Hold Temp: This clever setting maintains your selected water temperature for up to 30 minutes.  Perfect for making a second drink as delicious as the first – no need to re-boil your kettle.
1.7L capacity: Makes up to 7 cups
Water window with blue illumination
Simple controls on the base – sleep mode after 5 mins of inactivity
Easy to clean with removable scale filter
BPA-free for your peace of mind
Ninja Foodi 3-in-1 Toaster, Grill & Panini Press
The toaster that flips to grill, bake and press – 3 appliances in 1 space-saving design
Toaster mode: Even, edge-to-edge toasting with 7 shade settings
Fits 2 slices of bread or 2 bagel halves in long, uniquely designed slot
Bagel setting automatically toasts bagel halves to perfection for a golden outside and soft inside
Defrost setting toasts from frozen in minutes
Flip to transform from Toaster mode to Grill mode
Grill, bake and more: Create snacks and meals in minutes, from cheese and ham croissants to fish finger sandwiches, even reheat pizza
Press paninis and toasted sandwiches, packed with your favourite fillings – from grilled cheese to tasty tuna melts
7 customisable cooking functions – Toast, Bagel, Defrost, Grill, Panini, Bake and Reheat
3 temperature settings give you total control
Total Crumb Control: Uniquely designed crumb tray catches crumbs from both cooking positions
Includes Bake Tray & Panini Press accessories
Inspiration is included in the box with a Chef-Created Recipe Guide to get you started, and a Drinks Guide with handy temperature charts.
This 2-piece matching kettle and toaster set is also available in Black
Tech Spec
Category

Breakfast

Colour

Stainless Steel

Non-Slip Feet

Yes

Guarantee

1 Year

Kettle Capacity

1.7L

Kettle Wattage

3000W

Kettle Temperature Range

60°C - 90°C for speciality teas such as Green Tea, White Tea & Oolong

95°C for French Press & Instant Coffee

100°C for Black Tea, English Breakfast, Earl Grey & Herbal Teas

Kettle Rapid Boil

1 cup in as little as 50 seconds

Toaster Wattage

2400W

Toaster Food Capacity

1 Long, Wide Slot

Toaster Pre-Set Functions

Toaster Position

1. Toast
2. Bagel
3. Defrost

Grill Position

4. Grill
5. Panini
6. Bake
7. Reheat

Toaster Dimensions

H:22 x W:42 x D:15 cm
In The Box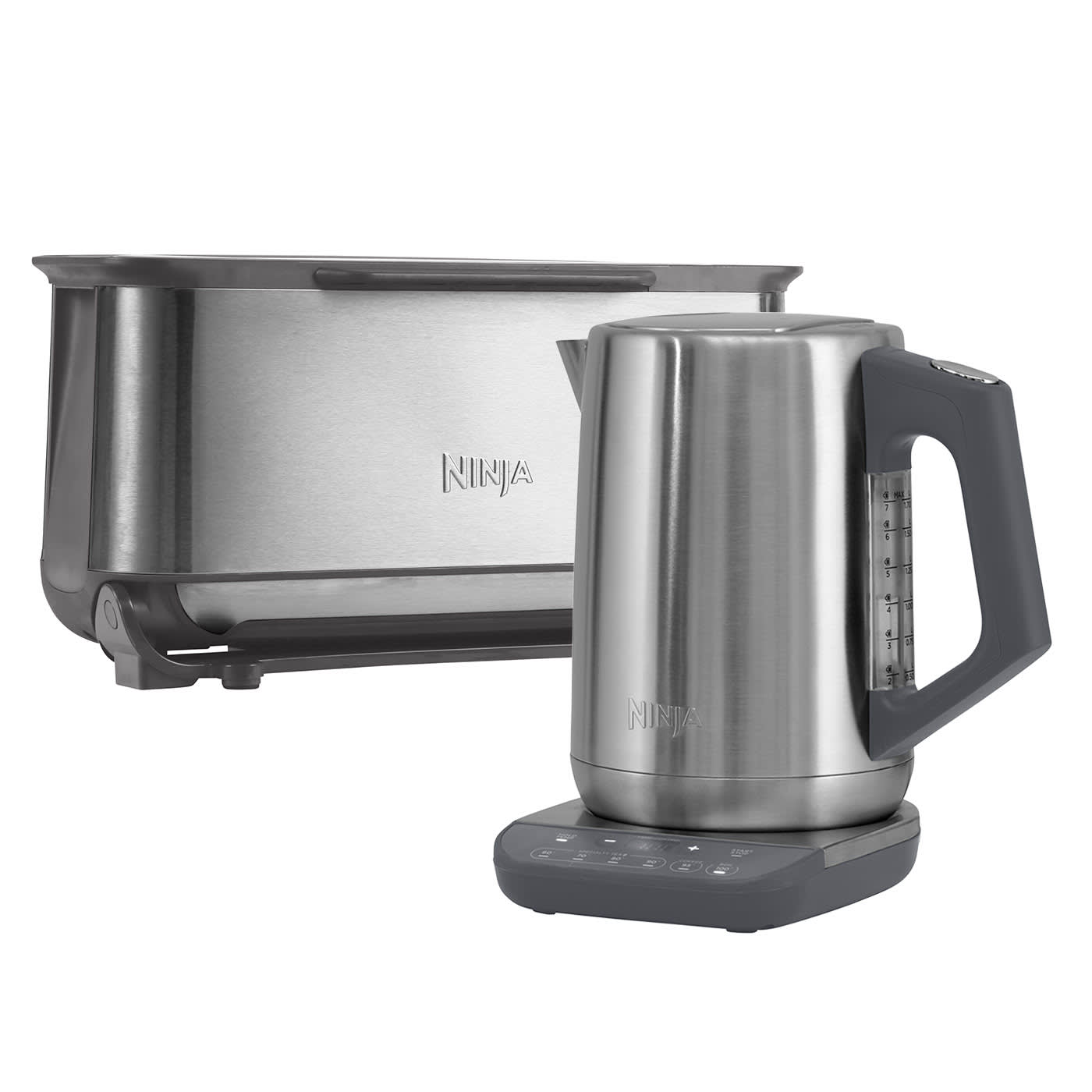 1 x Kettle & 360° Swivel Base 3000W (with removable limescale filter)
Main Toaster Unit (2400W)
1 x Dual Grill Tray and Panini Press
1 x Non-Removable Crumb Tray