More Details
Do you wish you could make your own fresh fruit juice at home, exactly as you like it, whenever you want it? Are you looking for a quiet, efficient juicer that can handle all your favourite fruits and vegetables?
Discover a better way to juice with the Ninja Cold Press Juicer. Enjoy pure, freshly squeezed juice, made at home without additives.
Create everything from classic orange, crisp apple and zesty grapefruit juices to exotic pineapple and mango. Enjoy healthy beetroot, carrot and ginger, sweet grape, citrus juices and leafy green juices. Easily create nutrient-rich drinks using fruit and vegetables, including wellness-boosting juice shots – from spicy lemon and ginger to super-charged green juices packed with goodness.
Cold Press Technology extracts up to 75% of the fruit*
This efficient masticating juicing process creates clearer juice with vibrant colours, and less foam and separation than centrifugal juicers.
A 9-segment auger uses pressure to extract juice and nutrients from fruit and vegetables – a powerful high-torque motor rotates the auger at slow speeds, resulting in minimal heat transfer.
Extract approximately 300ml of juice from 2 large oranges.
How do you like your juice?
Whether you like your juice smoother or 'with bits', Total Pulp Control lets you customise your drink using 3 interchangeable filters – Low Pulp, Medium Pulp and High Pulp. Make it just the way you want - and make everyone happy.
Each pulp filter is also perfect for different types of fruit, from juicy oranges to soft fibrous fruits like berries and pineapple.
Love fresh juice with breakfast? There's no need to worry about waking the household – the Ninja Cold Press Juicer is 3x quieter than leading centrifugal juicers**.
Easy to use and clean
This sleek machine is designed for your convenience with easy-to-use controls, an adjustable anti-drip lever to keep surfaces clean and prevent waste, and a convenient pulp container. The handy Reverse function rotates the auger in the opposite direction to help remove ingredients from the food chute chamber.
Simple assembly makes for no-hassle cleaning – you can rinse it clean in under 1 minute and there's a handy cleaning brush in the box. All removable parts are dishwasher safe and BPA-free for your peace of mind.
Get started straight away with an inspirational recipe guide packed with delicious juice recipes. Plus, the recipe guide includes tasty ideas to use up the leftover pulp, from berry granola and tropical ice lollies to kale pesto – so nothing goes to waste!
*Tested on oranges, grapes and melon. Yield subject to variety, season and ripeness.
**Tested to IEC 60704-2-11 whilst juicing carrots & oranges.
Tech Spec
Category

Motorised

Colour

Grey/Black

Product Weight

3.76kg

Product Dimensions (cm)

H:36 x W:35 x D:17

Capacity

Juice Jug Capacity - 500ml/ Pulp Capacity - 710ml

Wattage

150W

Filter

1.Black Filter (Low Pulp),  2. Grey Filter (Medium Pulp),  3. Orange Filter (High Pulp)

Dish Washer Safe Components

Yes

Easy Clean

Yes

Guarantee

1 Year

Barcode

0622356246941
In The Box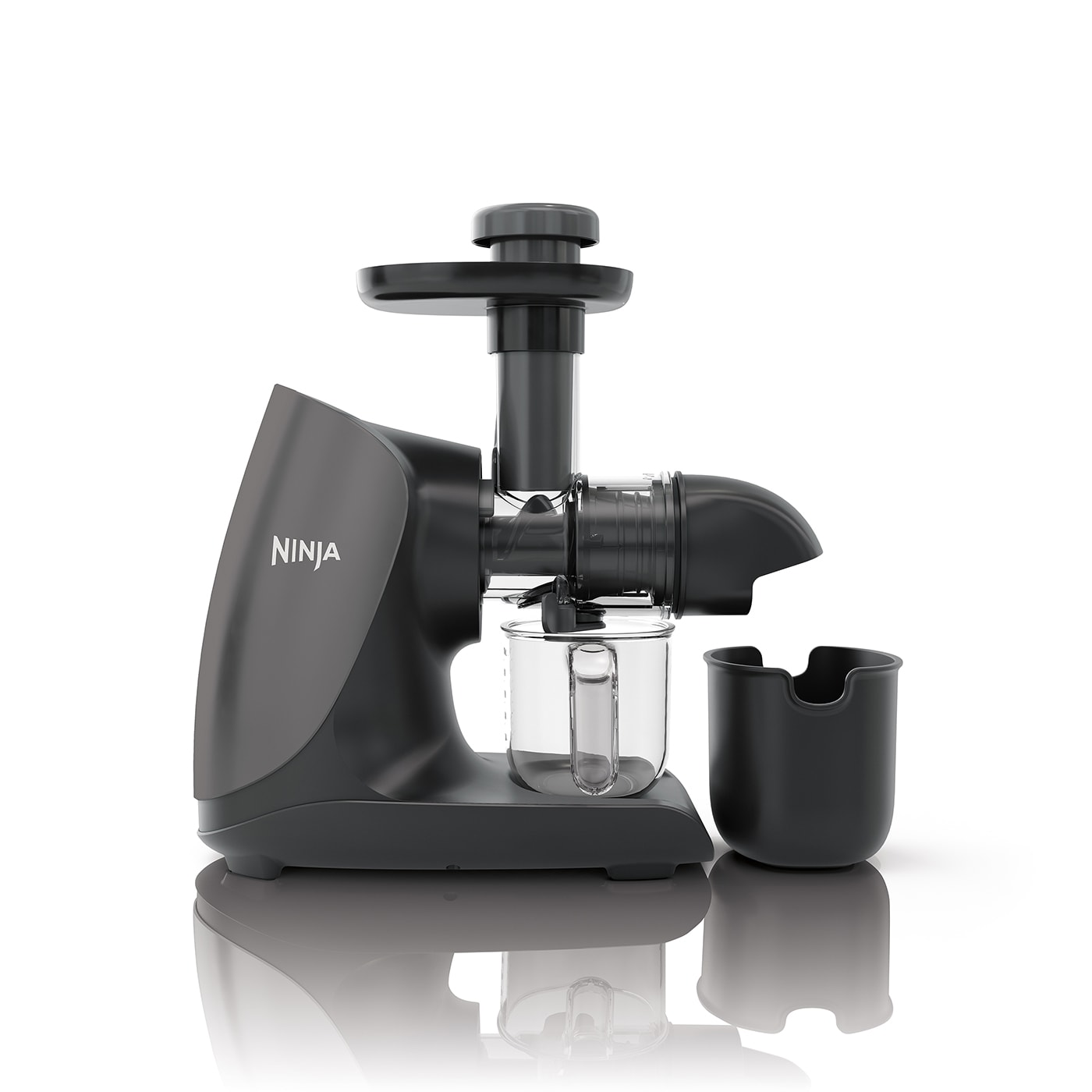 1 x Motor Base (150W)
1 x Cleaning Brush
1 x Tamper
1 x Food Tray
1 x Feed Chute Chamber with Anti-Drip Lever
1 x Auger
1 x Black Filter (Low Pulp)
1 x Grey Filter (Medium Pulp)
1 x Orange Filter (High Pulp)
1 x Inner Pulp Spout
1 x Outer Pulp Spout
1 x Juice Jug
1 x Pulp Container
Instruction Booklet
Inspiration Guide
Quick Start Guide