More Details
A stylish addition to your kitchen, this exclusive 3-in-1 food processor, multi-serve blender and personal blender features a deluxe blue colour, interchangeable blades and attachments, and a handy Ninja apron.
3 appliances in 1
Effortlessly chop, slice, grate, puree and mix your way to snacks and full meals in the 1.8L food processor bowl – from delicious pizza and bread doughs, pancake batters and cake mixes, to burgers, fishcakes, chopped salads and ingredient preparation.
Make enough to share in the 2.1L multi-serve blending jug – from crushed-ice cocktails and frozen desserts to pasta sauces, dips and dressings.
Blend straight into the 700ml single-serve cup to enjoy a drink on-the-go – from cool smoothies to super-smooth milkshakes.
Easy to use
Simple one-touch controls make it easy to either select automatic programs or manual settings – all designed to deliver the perfect result, exactly as you like it.
Add the attachment of your choice and the available programs will illuminate on the control panel.
No more guesswork with Auto-iQ Technology. Exclusive to Ninja, these intelligent programs are tailored to deliver the results you want at the touch of a button. Five unique pulse, pause, blend and process patterns do all the hard work for you. You can also take control with manual settings.
Ninja Blade Technology
Ninja's precision-engineered blades are built to last, made from durable, high-quality stainless steel and put to the test with 1000 ice-crushing cycles.
A powerful 1200W motor drives Ninja's purposefully designed interchangeable attachments to create delicious results every time.
In the food processor bowl, easily create precisely chopped salsas, burgers, purees and more with the Chopping Blade. Enjoy homemade coleslaw, salads and grated cheese with the Slicing/Grating Disc. Mix bread and pizza doughs, pancake batter and cake mix with the Dough Tool.
The Pro Extractor Blade easily creates super-smooth results in the single-serve cup, blending even the toughest ingredients including fibrous fruit and vegetables, nuts, seeds and ice. The stacked blade design quickly and easily blends larger batches in the multi-serve jug for evenly blended results in seconds.
Cleaning is easy thanks to dishwasher-safe parts.
Get started straight away with an Inspirational Recipe Guide included in the box, packed with kick-start recipes to inspire your imagination.
We aim to develop 5-star products through extensive consumer testing and feedback. Take a look at our customer reviews.
Tech Spec
Category

Motorised

Colour

Blue

Product Weight

4.34kg

Product Dimensions (cm)

48 x 25.5 x 19 cm

Wattage

1200W

RPM

21,000

Speed Levels

3 - Low, Med and High

Dish Washer Safe Components

Yes

BPA Free

Yes

Guarantee

1 Year

Barcode

0622356249980
In The Box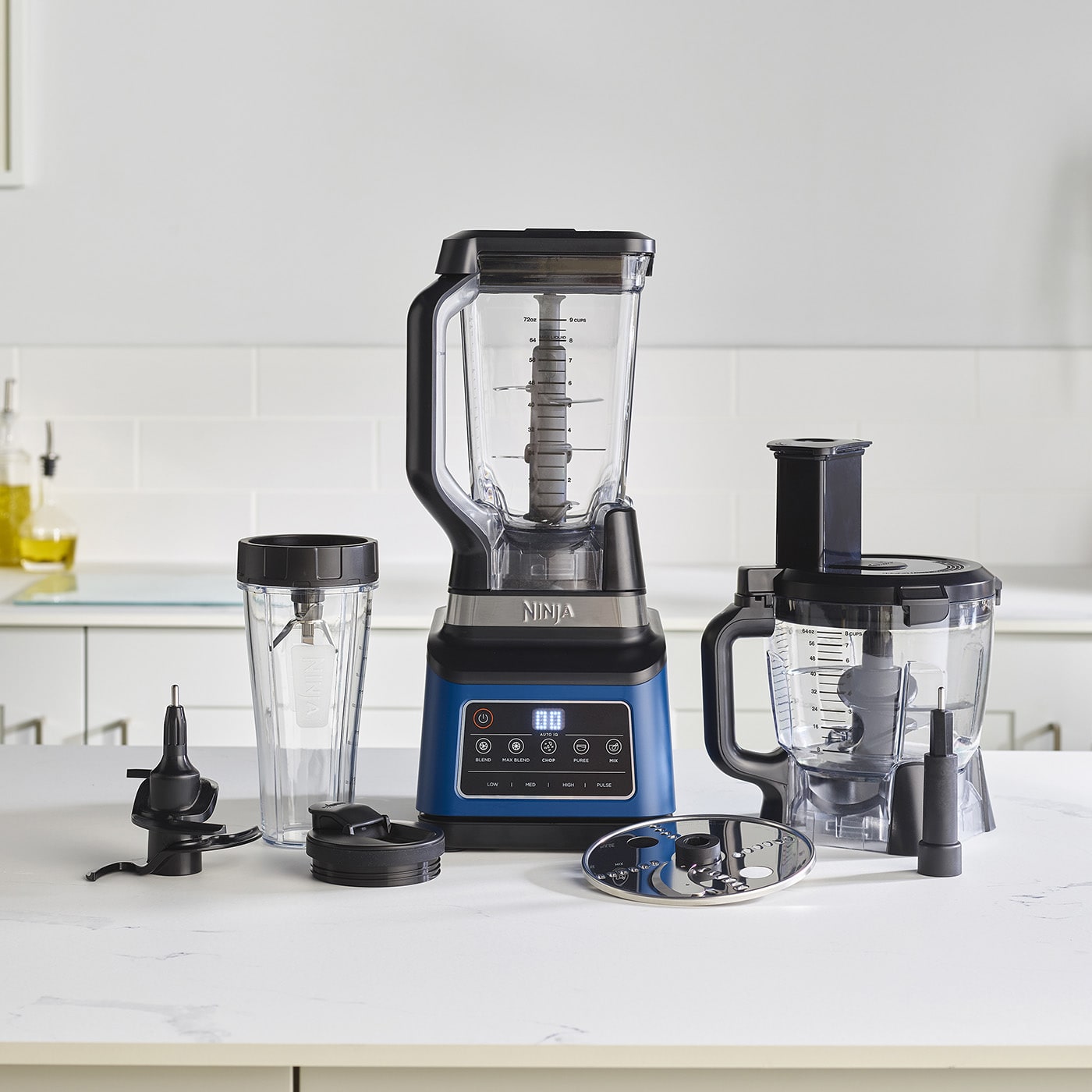 1 x Motor Base
1 x 2.1L Jug and Lid
1 x Stacked Blade Assembly
1 x Spout Lid
1 x Pro Extractor Blades Assembly
1 x 700ml Single-Serve Cup
1 x Reversible Slicing/Grating Disc
1 x Disc Adapter
1 x Food Processor Bowl
1 x Feed Chute Lid with Pusher
1 x Dough Blade Assembly
1 x Chopping Blade Assembly
1 x Apron
Instruction Booklet
Inspiration Guide